Besides working on our 'bot and competing during 2012 Regional, we collected information about the other teams during the event. Using scouting sheets we did quick interviews with almost every team we could find in the pit area. It was a good way for us to see what other teams were doing for the game, as well as see how they were organized.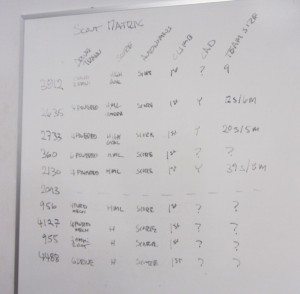 Later, we took a look at the winning teams and what our scouting sheets said about them. You could quickly see that many choose a similar general strategy. All of them could score in the autonomous round, climb to the first rung, and launch Frisbees to the high goal for the most points. However, there was a big difference in the size of the teams themselves; from a high of 39 to a low of 9. Also, the mentor to student ratio varied.
In my mind it was great to see small teams do so well. But it was also good to see that large teams could organize themselves in such a way as to be competitive.