You can design the team shirt/banner.
Every year, student team members have done our custom team shirt. The front features our name and artwork, the back our sponsors and mentors.
Last year we had several designs that the team voted on. Let's plan on having the decision in mid-Jan, with the design finalized for the printer by Feb 1st (That's the deadline for 2017 sponsors.)
You will need 'camera ready' artwork by mid-January. Here's how-
Design your artwork using vector images. They are easy to scale up (do not become blurry, pixelated and the color holds true.)
I recommend Inkscape. It is free and available for many operating systems, including a portable version you can keep on a flash drive.
Check out the quick Inkscape tutorials by  Ryan Lerch. (You can ignore the Fedora specific info.)
Try downloading and changing our generic swag shirt .svg file. I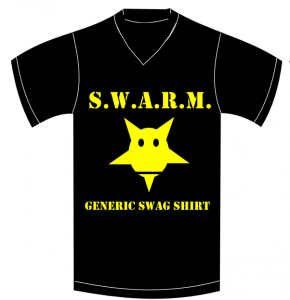 t's got a black template (thx pixabay.com) that includes front and back.
You will want to design your work so it fits in a rectangle about 16″ x 12″.
We typically like to keep our shirts two colors (back and yellow) as it is a couple of dollars cheaper for each shirt. Leave room for additional sponsors/mentors on the back. Do not take images we do not have permission to use.  Work in this year's theme.  And have fun!