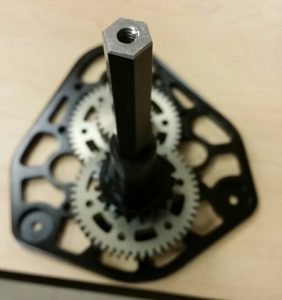 Gear boxes can sometimes be like a three dimensional puzzle, and on occasion, greasy. This "box" will hold three of our standard motors and be used with another set to drive our 6 wheel drive.  The "box" has more to put on, but we need to do assemble it one piece at a time.
It helps to carefully follow instructions, especially when familiarizing yourself with a new setup. There are step by step instructions online that put us through the process. Putting the instructions on the screen helps everyone follow along and gets the job done.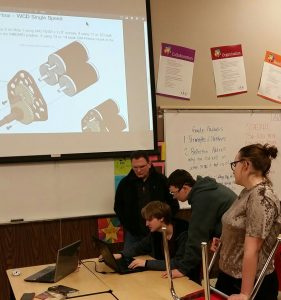 These sorts of things shouldn't be rushed. We can't afford the time it takes to fix or buy a new one. Plus, these boxes should last the whole season and beyond.
It also helps to take your time and be meticulous. Unfortunately, if things go bad during the competition, the crew in the pits will need to fix them under pressure. It's good to have some practice now and folks that know what they are doing. When the time comes they may be in the hot seat and will not be able to consult the documentation.